Primary care is the frontline of medicine that is provided by family physicians, general internists, general pediatricians, physician assistants, and nurse practitioners. Strong primary care is essential to improved health outcomes, lower costs, and increased equity of health. Primary care is best understood by its components rather than its definition. Some of the key features of primary care are:
First point of contact for all new needs and problems
Person-focused (not disease-oriented) care
Longitudinal care over time
Chronic disease management
Coordination of care across among specialists and other health services
The clinical work of a primary care provider is exceptionally broad, including:
Diagnosis and treatment of common illnesses (e.g. hypertension, dyslipidemia, diabetes)
Behavioral counseling (for diet and smoking)
Preventive services (vaccines)
Screen for serious conditions (e.g. cancer and depression)
Primary care providers (PCPs; aka primary medical doctors [PMDs]) practice in:
Private offices
Community health centers
Academic centers
Primary care is facing a crisis in the United States.
There are
fewer primary care providers
at a time when there are an increasing number of patients, many of whom are aging with complex medical conditions. As a result, the current landscape of primary care is changing in the United States.
Patient-centered medical homes (PCMHs)
is one of the leading models of care delivery to provide great experiences for patients, doctors,and other healthcare team members.
PCMHs
are meant to build a close partnership between clinicians and patients by including patients in decision-making, increasing access to providers, and empowering patients with technology (e.g. electronic medical records [EMR] and patient portals). The core attributes of PCMHs are:
Person-centered
Comprehensive care
Accessible care
Coordinated care
Commitment to quality and safety
PCMHs can also be part of an Accountable Care Organization (ACO), which is made up of providers, hospitals, pharmacies that agree to share responsibilities for the quality and cost of care delivered to a specific population of patients.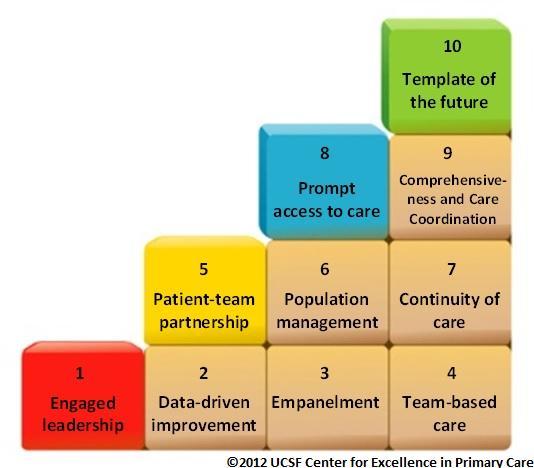 Another approach to transforming primary care has been outlined by a UCSF team at the Center for Excellence in Primary Care. The building blocks of high-performing primary care offer practical materials and tools to achieve excellence in delivery primary care. This work stems from a survey of 23 different types of practices that were identified as "high performers."
The ultimate goal of PCMHs, ACOs, building blocks, etc. is to transform the practice of healthcare, which the Institute for Healthcare Improvement refers to as the Triple Aim:
Improve patient experience of care
Improve health of people and populations
Reduce cost per capita
("joy in practice" is sometimes referred to as the fourth aim)
Another exciting area within primary care is Community Engagement. To learn more about community engagement, visit the excellent modules here if you have CLE access (go here if you do not have CLE access). You can also learn more about community engagement at UCSF here.
To learn more about primary care, please visit the following helpful links: