PCLA Leadership
Margo Vener, MD, MPH

Margo Vener, MD, MPH is a Professor of Family and Community Medicine at the University of California, San Francisco (UCSF). Dr. Vener attended UCSF School of Medicine and was one of the co-founders of the UCSF Students' Homeless Clinic in 1991. She completed her MPH at UC Berkeley in 1994; this solidified her interest in education and preventive care. Because of her strong interest in providing primary care for urban underserved patients and families, Dr Vener trained in the Family Medicine residency program at SFGH/UCSF. Dr Vener completed a fellowship in Medical Education and joined the UCSF Family Medicine faculty in 1999. Dr Vener currently serves as Course Director for the third-year Family Medicine clerkship, FCM 110. She is co-director of Model SFGH and also of the Longitudinal Clinical Experience. She is Director of Medical Student Education in the Department of Family Medicine. For the past 20 years, Dr Vener has practiced primary care and precepted students and residents in the Refugee Clinic in the Family Health Center. She has a strong interest in improving primary care education and mentoring at all levels of training. The mother of four children (3, 9,13,14), Dr. Vener also has an enduring interest in potty training, teen literature, life/career imbalance, and surviving the effects of long-term sleep deprivation.
Sarah GaleWyrick, MD

Sarah GaleWyrick is an Assistant Clinical Professor of Family and Community Medicine at UCSF. She completed her bachelors degree in the History of Science at the University of Wisconsin-Madison. She stayed in Madison to attain her medical degree from the University of Wisconsin School of Medicine and Public Health. Unable to tear herself away from the land of four seasons and cheese curds, she completed her residency at the University of Wisconsin Department of Family Medicine in Madison. Due to her interest in teaching, she then completed an Academic Medicine fellowship with the UW Department of Family Medicine. She provided general primary care at the Washington DC VA for one year, before moving to San Francisco in 2014. Dr. GaleWyrick provides outpatient care to patients of all ages at the UCSF Lakeshore Family Medicine Center, frequently having the privilege of seeing patients in the context of multigenerational families. She also provides routine prenatal care at Lakeshore.  Her greatest teaching passion is working with medical students, which she does teaching at Lakeshore, as a Bridges Coach and working with the PCLA. In her free time, she enjoys reading her toddler's favorite books many many many times a row.
Faculty Contributors 
Manuel Tapia, MD, MPH

Ron Labuguen, MD

Jennifer Cocohoba, PharmD

Eddie Cruz, MD, MPH

Meg Mcnamara, MD

Anna Chodos, MD
---
Forever Friends 
Beth Wilson, MD, MPH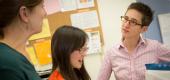 Elisabeth Wilson, MD, MPH
is currently serving as Chair of Family Medicine at Maine Medical Center in Portland, Maine. Prior to this, she was an Associate Professor of Family and Community Medicine at the University of California, San Francisco (UCSF). Dr. Wilson graduated from the combined MD/MPH program at Tufts University School of Medicine and completed her residency training in Family Medicine at UCSF. After a three year health services research fellowship, Dr. Wilson joined the UCSF faculty in 2005. She served as the Director of Education for the Department Family and Community Medicine. In this position, Dr. Wilson is responsible for the coordination, integration, and strategic planning of the full spectrum of educational programs in the department. From 2005-2013, she was the Program Director for UCSF's Program in Medical Education for the Urban Underserved (PRIME-US), a longitudinal track for medical students from diverse backgrounds interested in working with urban underserved populations. Dr. Wilson's research focuses on health care disparities and medical workforce diversity. She has published studies on medical student attitudes towards health disparities, the health effects of language barriers, patient perceptions of racial discrimination, and the value of pipeline programs in diversifying the medical workforce. Dr. Wilson has her own clinical practice and precepts medical students and residents at the Family Health Center on the campus of San Francisco General Hospital.
Sharad Jain, MD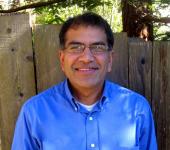 Sharad Jain is a Professor of Clinical Medicine based at San Francisco General Hospital. He completed his undergraduate degree from Stanford University, his medical degree at UCSF, and his medicine residency in the Department of Medicine at UCSF. After spending several years working at the VA Medicine Center, Sharad now is an attending physician at SFGH where he sees patients in the ambulatory and inpatient settings. He serves as an advisory college mentor for the School of Medicine, as well as the director of the UCSF/SFGH Primary Care Medicine Residency Program, a track focused on training primary care physicians to work with vulnerable populations. He is also the faculty adviser for the UCSF Student Homeless Clinic, MedLink, and Remedy at UCSF. In addition to clinical medicine, his primary interests are medical education and caring for underserved populations.
​Rene Salazar, MD
René Salazar, MD is currently serving as the Assistant Dean for Diversity and Professor of Medical Education at the University of Texas at Austin Dell Medical School. Previously, he was an Associate Professor of Clinical Medicine in the Division of General Internal Medicine. He served as the Division's Director of Diversity where he led efforts to increase the number of diverse residents and fellows in Graduate Medical Education at UCSF. A native of South Texas, he received his M.D. from the University of Texas San Antonio School of Medicine and completed his residency in Internal Medicine at the University of California, San Francisco. After residency, he completed a Latino Health Disparities Research Fellowship through the Division of General Internal Medicine and the Medical Effectiveness Research Center for Diverse Populations at UCSF. Dr. Rene Salazar joined the Division of General Internal Medicine at UCSF in 2003. He was the Chair of the Department of Medicine's Residency Diversity Committee and led recruitment efforts to increase the number of diverse trainees in the department's residency training program.